Claws Up Games gets unnecessarily technical in describing CHOP, stating that it offers a strategic dimension to deeply intense game-play that will test your skill, pizza and beer supply.
What it really wants to say I think is that it's the weekend, regardless of whether you have four friends or none, if graphic comic book violence is your thing, you should probably head out and play CHOP on Steam Early Access. Or try the demo until it's payday.
A 2D arena fighter of this sort needs a distinct game mode to keep you plugged in and CHOP believes Rush Out is what makes it stand out; four characters start out across a grotesque level, an escape portal opens for each when a kill is made, which they must then cling to for a few seconds to get out.
This continues for multiple rounds with players being awarded points based on the order in which they manage to successfully escape before the others; dying closes a character's portal until another kill is made, the number of kills they make in the process are of no importance, and only serve to prevent other players from escaping.
That game-play video is pretty rapid so I'll help put things into perspective; combat involves running across the ceiling and walls, plenty of drop attacks, sword hacks, often massive guns and old school Mortal Kombat like melee-finishers for when all else fails.
Kills are instantaneous and so are respawns, plus each arena might also happen to be jam packed with obstacles/traps/assorted hazards.
There are superpowers to explore like being able to teleport across the levels, control swords like homing missiles or even dual wield them to trigger a highly potent laser in between. Bonus items can be picked up/combined across the arena for added abilities and once you're bored, you may partake in at least two other game modes of the Last Survivor and Skull Hunter type.
The latter of these is a rush to slay the most opponents, scalp them and horde their skulls before the timer runs out, while the former is your typical attempt at a highest kill count.
CHOP's current Early Access build features a total of 21 arenas spread across the Rush Out and Last Survivor modes, each of three variations (FFA, 2VS1, 1VSALL), 5 levels of single player AI difficulty and 4 playable characters of mythological/experimental descent.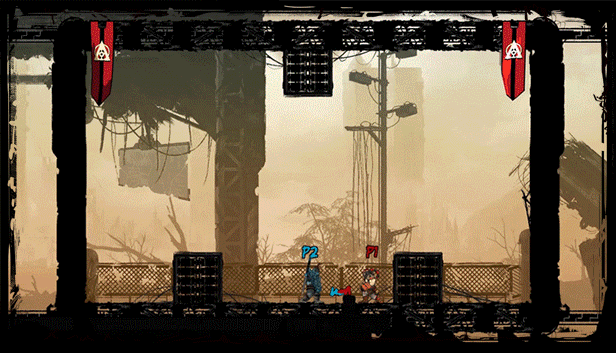 In contrast the final version will include the Skull Hunter mode, tournaments, 10 additional arenas and more ruthless single player AI. Crowdfunded this past May when a Nintendo Switch port nearly happened.