Bicycling 5K miles over 5 months across the United States should leave anyone knackered for a good while but not Greg Lobanov. In fact, the Philadelphian game designer with an affinity for the colorful and whimsical went ahead and made a full game to summarize the trip.
It's taken him more than two years but here we are, Wandersong arrives September 27th to Steam, Humble, the Nintendo Switch store and here's a very cheery trailer to mark the occasion.
You're right, Wandersong is indeed a musical adventure where you play The Bard with an annoyingly optimistic look on his face. It's a side-scroller too and singing is its key gameplay mechanic, with each tune influencing the world, its characters and their interactions towards yourself.
Don't worry, that doesn't mean you'll be tasked with memorizing songs or their patterns but rather, vocalizing using the mouse/controller stick to say – quell poltergeists, beckon enigmatic creatures, woo the rudely impatient witch Miriam that plays your sidekick and find your own path through the game, really.
Naturally such an undertaking is going to require some lovely music and lovely is what A SHELL IN THE PIT seems to have done; live performances are used wherever possible and back in June at least, many voices were called in for a special number.
Wandersong: Dreams & Wonder EP by A Shell in the Pit
But why all this? Eya, goddess of the universe created all things with her music at the beginning of time, and often chooses to reset her work by singing a new song. Except our Bard's not too keen on going just yet, and he's out to save the world by collecting pieces of what's called the Earthsong.
Along the way he'll supposedly meet a huge cast of often pestered characters, some puzzles and some very neat merch to peddle; I do love that neon yellow 7" EP vinyl release Wandersong's OST getting.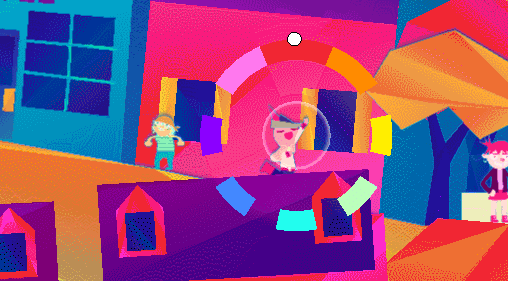 All this handcrafted thanks to some 990 backers and a successful Kickstarter.